…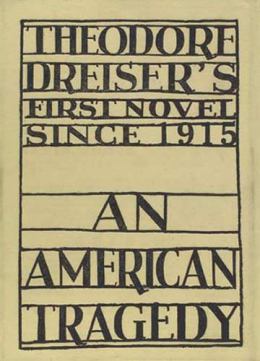 #63 An American Tragedy, Theodore Dreiser 
It was, I think, Mignon McLaughlin who once said:
It's innocence when it charms us, ignorance when it doesn't.
This pretty much sums up my hatred for An American Tragedy (1925).
Everyone in this book is insufferable. Everyone. There's Asa and Elvira Griffiths, hapless and helpless to the tips of their fingers. There's Hortense Briggs, and her whining, and her shopping addiction. There's Roberta Alden and her drab insecurity, Gilbert Griffiths and his pointless grudge, Sondra Finchley and her baby-talk, and the rest of the Lycurgus social elite. All of these people make Voldemort seem warmhearted and vivacious by comparison.
Most of all, there's Clyde Griffiths, our watered-down protagonist, who pairs an insipid personality with a cutthroat sense of greed. THESE ARE A FEW NONE OF MY FAV-O-RITE THINGS.
There is, frankly, nothing and no one to like here. Dreiser's plot is tedious, and his writing simplistic. The moral of the story seems to be that chasing the American Dream will get you strapped into an electric chair… but so will being a murderous asshole.
By my estimation, we, the readers, are the real victims here—so Clyde can close his sniveling gripe-hole any time now.
Is It One of the Greatest Books of All Time?
It wouldn't be the greatest book of all time if it were the only book ever written. Stick to your day job, Dreiser.
Favorite Quotes:
As they sang, this nondescript and indifferent street audience gazed, held by the peculiarity of such an unimportant-looking family publicly raising its collective voice against the vast skepticism and apathy of life.
Read: 2016
---
#85 The Golden Notebook, Doris Lessing
Now we're talking. What do you get when you try to write four books at once?
A fifth book, apparently. A golden one.
At least, that's how the story goes for Anna Wulf, who fills four color-coded notebooks with the most intimate of details: black for her childhood in Southern Rhodesia, red for her time in the Communist Party, yellow for her manuscripts, and blue for her personal diary. Anna decides, ultimately, to unite this fragmented rendering of her life into one final notebook: The Golden Notebook (1962).
This, folks, is what we call postmodernism.
Among Lessing's more prominent themes are mental and societal breakdown, anti-war protest and communism, women's liberation, romantic love, and parenthood. This takes it, inevitably, quite far from being a light read, but it is a compelling one. There is something raw and fearless about it, something deeply honest but carefully engineered—something that tells me I'll pick this book up again someday to take another ride.
Is It One of the Greatest Books of All Time?
I wouldn't jump right to "Greatest" from a preliminary read, but there's nothing else quite like it on The List.
Favorite Quotes:
I was filled with such a dangerous delicious intoxication that I could have walked straight off the steps into the air, climbing on the strength of my own drunkenness into the stars. And the intoxication, as I knew even then, was the recklessness of infinite possibility, of danger, the secret ugly frightening pulse of war itself, of the death that we all wanted, for each other and for ourselves. 

Time is the River on which the leaves of our thoughts are carried into oblivion.

People don't mind immoral messages. They don't mind art which says that murder is good, cruelty is good, sex for sex's sake is good. They like it, provided the message is wrapped up a little. And they like messages saying that murder is bad, cruelty is bad, and love is love is love. What they can't stand is to be told it all doesn't matter, they can't stand the formlessness. 

"For Christ's sake, you must understand sex isn't important to me, it just isn't important."
I said: "You mean sex is important but who you have it with isn't."
Read: 2014
---
#56 Animal Farm, George Orwell
George Orwell's Animal Farm (1945) came out of left field and blew me away, to the point that I was disappointed when it ended.
Well, OK, almost disappointed. The List is really long, guys.
Orwell intended Animal Farm as an allegory for the Russian Revolution of 1917 and the subsequent Stalin regime, and he was NOT subtle about it. Stalin is literally depicted as a tyrannical pig named Napoleon. Following a farm-wide rebellion against their cruel human caretakers, the crafty Napoleon wrests power away from his fellow leaders with an army of dogs. All the ideals of their revolution, from equality to loyalty, are either crushed or forgotten as time passes and oppression soars. In the chilling final pages of the story, the pigs begin to walk on two legs… much like their human masters of old.
A democratic socialist, Orwell opposed communism, along with the totalitarian propaganda that so often fuels it. He described Animal Farm as an effort "to fuse political purpose and artistic purpose into one whole," which sounds boring but isn't. Take it from me—someone who is, broadly speaking, repulsed by politics—that this is worth a read anyway. Orwell's writing style is simple but riveting, and his farm animal cast makes a play-by-play of totalitarianism surprisingly readable.
Just keep in mind that this is not "a fairy story" with a happy ending. After all, this is the book that gave us the famous saying "All animals are equal, but some animals are more equal than others."
Is It One of the Greatest Books of All Time?
Absolutely. It meets my two criteria—originality + expert craftsmanship—and then some.
Favorite Quotes:
Man is the only creature that consumes without producing. He does not give milk, he does not lay eggs, he is too weak to pull the plough, he cannot run fast enough to catch rabbits. Yet he is lord of all the animals. He sets them to work, he gives back to them the bare minimum that will prevent them from starving, and the rest he keeps for himself.

The creatures outside looked from pig to man, and from man to pig, and from pig to man again; but already it was impossible to say which was which.
Read: 2015
---
#18 On the Road, Jack Kerouac
I've always understood On the Road (1957) to be a love-it-or-hate-it kind of phenomenon, like Taylor Swift or Marmite.
My take? It's the same for all three, actually: something in between. I love them, sure, but only in small doses. I love them in spite of their flaws, and sometimes because of them. And I love them most of all for their ability to provoke, despite being pretty damn harmless.
The ultimate road trip narrative, On the Road is perhaps less about purpose or destination than the feeling of adventure. This book evokes travel, and the American landscape, like no other. There's an undeniable appeal in the vitality of it—the anarchy of it—as it matches stroke for stroke, in form and function, the feel of being young, and wild, and free, and stupid. The manifesto of the Beat movement characterized by hedonism and experimentation, On the Road invites us on a spontaneous journey to rescue ourselves from tradition and conformity, all for the cost of paper and petrol.
Jack Kerouac famously drafted On the Road on one continuous scroll of paper over the course of three weeks in 1951. The story follows Sal Paradise (based on the author) and Dean Moriarty (based on Neal Cassady) on a series of cross-country jaunts marked by sex, drugs, and jazz. Controversial at the time of publication, On the Road still marches to the beat of its own drum, occupying a unique corner in the American imagination.
As much as I admire Kerouac's monument to freedom and Americana, I felt a restlessness reading On the Road that had less to do with my own life than the choices Sal and Dean made with theirs. As it turns out, even adventure can become monotonous. Which is why I'll say it again: The best way to fall in love, with On the Road or with your own soul mate, is carefully, in small doses.
Marmite-style.
Is It One of the Greatest Books of All Time?
I'm going to go with yes. It's not perfect, but few classics are.
Favorite Quotes:
The whole mad swirl of everything that was to come began then.

I have finally taught him that he can do anything he wants, become mayor of Denver, marry a millionairess, or become the greatest poet since Rimbaud. But he keeps rushing out to see the midget auto races.

I told Terry I was leaving. She had been thinking about it all night and was resigned to it. Emotionlessly she kissed me in the vineyard and walked off down the row. We turned at a dozen paces, for love is a duel, and looked at each other for the last time.

If nobody's home, climb in through the window. Signed, Remi Boncoeur

What is that feeling when you're driving away from people and they recede on the plain till you see their specks dispersing?—it's the too-huge world vaulting us, and it's good-by. But we lean forward to the next crazy venture beneath the skies.

So I went up and there she was, the girl with the pure and innocent dear eyes that I had always searched for and for so long. We agreed to love each other madly.

"We gotta go and never stop going till we get there."
"Where we going, man?"
"I don't know but we gotta go."
Read: 2014
---
#59 Gargantua & Pantagruel, François Rabelais 
Don't be fooled by those back-cover references to the "dazzling and exuberant comic Chronicles of Rabelais," or the "ingenious wordplay and mastery of language" evoked by Gargantua & Pantagruel (1532–1564).
This book is so, so boring.
Listen to some of these chapter titles:
On the Origins and Lineage of the great Pantagruel
How Pantagruel fairly judged an amazingly hard and obscure controversy so equitably that his judgement was termed more wonderful than that of Solomon's
How Pantagruel departed from Paris on hearing news that the Dipsodes were invading the land of the Amaurots. And why the leagues are so short in France. And the Exposition of a saying inscribed upon a ring
How Gargamelle, when carrying Gargantua, took to eating a great profusion of tripe
How Gargantua was dressed
Gargantua's colours and livery
What the colours white and blue do signify
How Gargantua spent his time when it was rainy
Why everyone avoids monks: and why some men have noses which are bigger than others
How Panurge had a flea in his ear and gave up sporting his magnificent codpiece
The Excuse of Panurge; and an exegesis of a monastical cabbala concerning salted beef
How lawsuits are born and how they grow to perfection
How Xenomanes describes Quarêmeprenant anatomically
How in the Court of the Master-Inventor Pantagruel denounced the Engastrimyths and the Gastrolaters
You're already bored, aren't you? I'm bored all over again just looking at this book.
It had potential. I'll give Rabelais that much. This 16th-century pentalogy follows two giants (a father and son) on their many misadventures in Medieval/Renaissance France. Much is made of the book's satirical, scatological, and violent themes, but even these could not deliver me from indifference. And just in case you don't believe me, and want to try it out for yourself: Give those chapter titles one more read.
I think we'll see eye to eye in no time.
Is It One of the Greatest Books of All Time?
I don't even know—I only half-paid attention.
Favorite Quotes:
Then they gave us heartfelt advice: if we wanted to rise in the courts of great noblemen, to be as economical as possible of the truth.

Would you say (as one may indeed logically infer) that the world was heretofore daft but now become wise? How many and what conditions were required to make it daft? And how many and wise to make it wise? And why was it daft? And why should it now be wise? By what qualities did you recognize its former folly? By what qualities, its present wisdom? Who made it daft? Who made it wise? Who form the greater number: those who liked it daft or those who like it wise? For how long was it daft? How long has it been wise? Whence proceeded its antecedent folly and whence its subsequent wisdom? Why did its antecedent folly end now and not later? Why did its present wisdom begin now and not earlier? What ill did that antecedent folly do to us? And what good, the subsequent wisdom? How could that old folly have been abolished? And how could the present wisdom be restored? 

Nothing is more dear nor more precious than time: let us spend it on good works.
Read: 2016
…
Check out Quick Reviews: Part I, Part II, and Part III for more fun and games whining and mocking.
Oh, and here's the premise behind the Quick Reviews series. (I'll give you a hint: It's laziness.)